The 2012 Nobel Prize for medicine has been won by Japan's Shinya Yamanaka and Britain's John Gurdon for their work on stem cells.

The winners of the prestigious prize were announced Monday in Stockholm.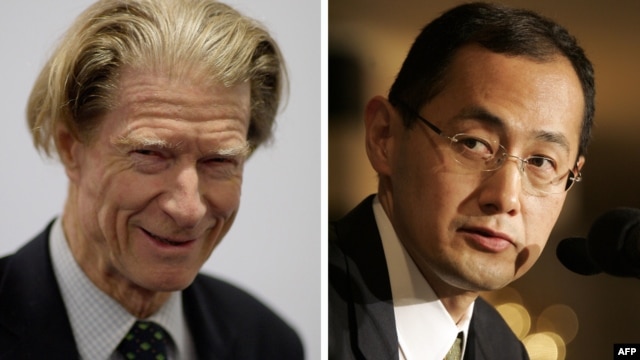 A combination of two recent pictures shows at Left John Gurdon of Britain and at Right Shinya Yamanaka of Japan, who both won the Nobel Prize on October 8, 2012 for work in cell programming.
??The scientists won for their research in nuclear reprogramming, a process that instructs adult cells to form early stem cells, which can then be used to form any tissue type.
Yamanaka is a professor at Kyoto University in Japan, while Gurdon is currently at the Gurdon Institute in Cambridge.
The disclosure of the winners of the medicine prize begins a week of announcements of Nobel prize winners.
Physics will be announced on Tuesday, chemistry on Wednesday, literature is likely on Thursday, and the prestigious Peace Prize on Friday.
The Nobel Memorial Prize in economic sciences will be announced on October 15.
This year's laureates will receive their prizes in Stockholm in December.